InKaZo stands for Innovatie in KankerpatiëntenZorg (Innovation in Cancer Patient Care), an initiative that was set up by 4 women who are concerned with the quality of care for cancer patients in the Netherlands. They exert themselves to address the issue of the odds of recovery or common side effects during regular treatments. Furthermore, they would like to initiate a dialogue over the patients' liberty to undergo whatever treatment they choose, so that effectivity, durability and quality of care for cancer patients in the Netherlands will improve through innovative ways.
Congress
They would like to initiate this dialogue soon! This will happen by way of an international congress at which speakers from all around the world will give their vision on not only the origin and treatment of cancer, but also on creating a new paradigm in which testing, recognition and financing of innovative treatments shall be enabled.
Therefore, they invite public authorities, insurers, sufferers' associations, hospital boards of directors, medical staff, specialists, therapists, psychosocial counselors, social workers, GPs and patients to attend the aforementioned congress.
Linda Woudstra

Linda, who was herself confronted with breast cancer in 2008, studied Industrial Design at the Technische Universiteit in Delft. After her study, she worked for General Electric Plastics, as one of the Product Managers and Design Managers. In 1994, she set up her first company, Yellow & Blue Consultancy BV, from which she led extensive processes of change among others at Philips and where she conceived the first Annual Environmental Report.
Innovation is to her, first of all, designing a process of communication and discussing what not yet is. Her most important objective is stimulating people's minds. The past 10 years, she has campaigned for a better position of women on the labor market at her second company, Regeltante BV.
Her maxim: "You can lead a horse to water, but you can't make him drink".
Pamela Sturhoofd

Pamela Sturhoofd studied Political Science and did Communication Studies at the Universiteit van Amsterdam. In 1991, she graduated in Media Organisation and began her career by working in the media. First working for TROS, Sleeswijk Entertainment and Stokvis Producties, she eventually worked as an Executive Producer at Endemol. At the same time, she graduated from the Media Academie in Hilversum, finishing her studies of Directing and Presentation. In the summer of 1998, she settled in Mexico, where she lived, traveled and worked for several Dutch and international media during almost two years.
Currently, Pamela is working from the Special Eyes office in Amsterdam for the greater part of the year. There she focusses on producing and directing human interest documentaries for radio and television as well as non-profit organisations.
Ymkje Damsma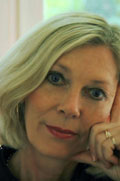 Ymkje Damsma worked as a Medical Secretary and as an Executive Secretary in healthcare, among other things, for many years. In 1987, she was confronted with the powerless situation in which especially parents find themselves whose children are diagnosed with cancer: her neighbors' little boy, who was 4 years old at the time, was diagnosed with Acute Lymphoblastic Leukemia, for which he was continually treated and who, after a struggle of four years, passed away. This was the case even after a terrible number of juvenile fellow sufferers had already passed away in both of the hospitals where they had undergone treatments. In response to this disturbing fact, she could not but pledge herself to a foundation for children with cancer in 1990.
She assisted MCom Henk Trentelman (who died in August 2010 as a result of prostate cancer) in writing his second book, titled "Chemo? Or can I choose myself?" At the same time, she deals with the secretary activities for a non-profit organisation that would like to place so-called stepchild drugs at the disposal of doctors and patients.
Her maxim: "Experience is the best vaccination against prejudice".
Léonie Sazias

Léonie Sazias chose a career in the media after studying Textile Crafts/Handicrafts at the Kunstacademie. First, she worked as an announcer at Veronica and continued her career at AVRO and TROS. She presented several shows as well, including De Ojevaarsjo and Dierenmanieren.
Since October 2008, she has been heard daily in the show "Wekker-wakker" by Radio Max, which she co-presents with Henk Mouwe. Next to that, since 2010, Léonie has been the chairwoman of "Hart voor Hilversum", a municipal political party.